7 must-do experiences while you are in Træna 
Træna represents the perfect place to stop time and live slowly surrounded by majestic nature and the sea that goes lost to the horizon, making you dream of far away lands impossible to reach. It is on the edge of the ocean, 33 nautical miles off the coast of Helgeland, where one of Norway's oldest fishing villages lies, with its strong community and its impressive cultural heritage. Its division into multiple small islands, mostly isolated rocks, the stormy Atlantic climate and the distance from the mainland´s commercial facilities, do not stop the lives of the local inhabitants and the new settlers. Activities are organized all year round and lovely little cafés and museums, guided hikes and boat excursions, charming accommodations and wellness facilities, musical and social events, are available for visitors. 
What we recommend below are some of the experiences this pearl can offer. Please keep in mind that the day-by-day commitment of the villagers is developing a larger range of activities and this may affect our list pretty quickly. 😉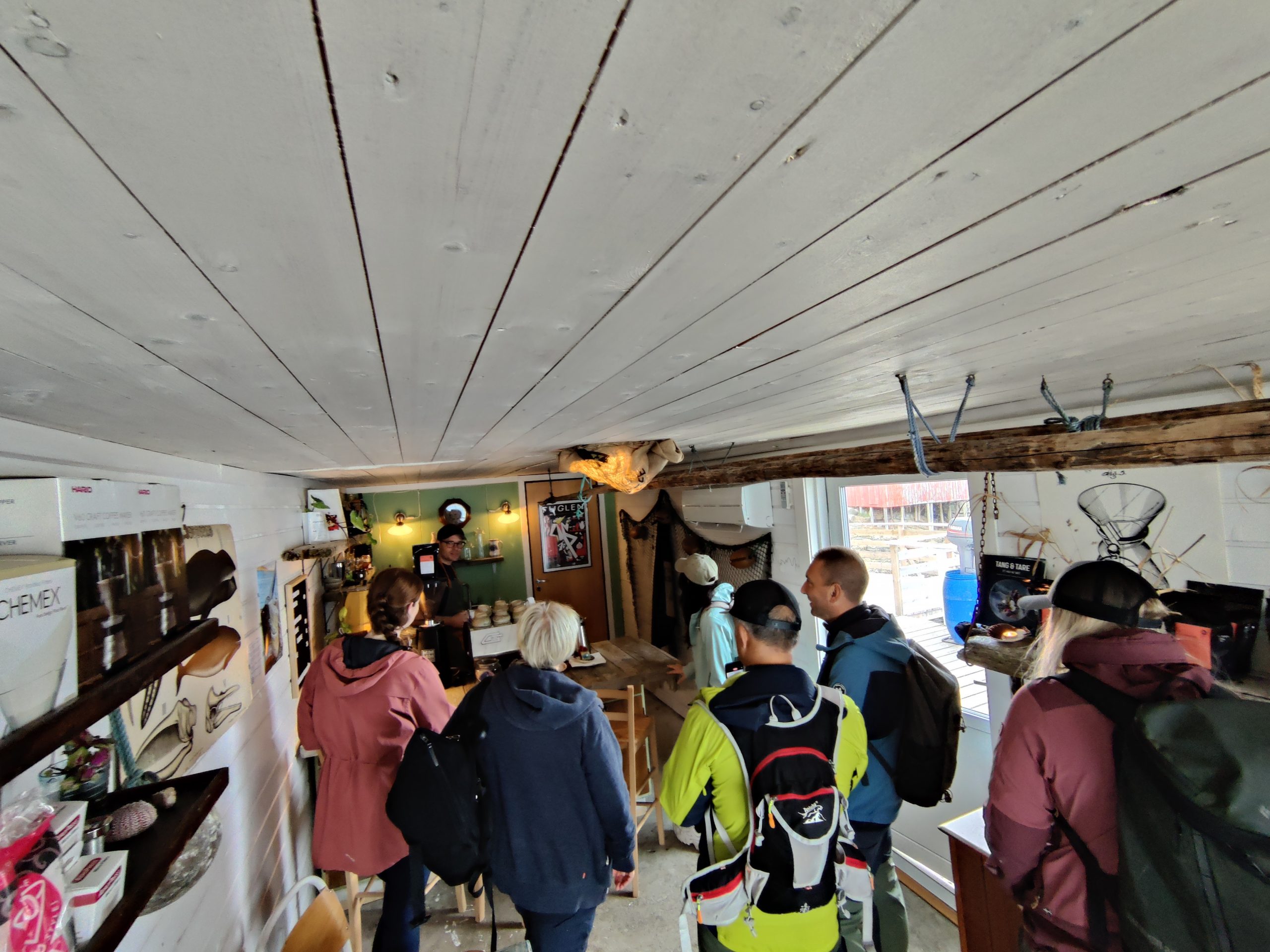 Visit Aloha Cafe 
A name that feels a bit misplaced on an fishermans island far out in the sea in Northern Norway, but the name is set as an influence to the "Træna-Hawaii" photo story. It is a cozy place with a mix of local and tropical vibe. It is centrally and nicely located in the middle of the center of the island, with short distance to both the speedboat and ferry quays, the church, the tourist information and the grocery store. It is a popular cafe where the Trænværingen often meet to talk about big and small things over coffee. 
Top tip – ask if they have the delicious fresh fish salat or taste their special "Hawaii Burger" for a energetic lunch, have a look at the large selection of homemade cakes and select a milkshake or a smoothie for an afternoon break, maybe waiting for the sun or listening to some local "heated" conversations about their morning fishing catch.
Explore Sanna Island and learn about history at Træna Museum in Husøya 
Sanna Island is a unique place. On this island old artifacts dating back to 9000 years old have been found here, and with that in mind, Træna claims to be the oldest fishing village in Norway! The island itself is quite spectacular with its relatively small size, but high peaks shooting up in the air. Currently there are 2 permanent residents on the island, while other houses are used as summer houses. 
A main attraction is the "Kirkehelleren", a large high ceiling cave and a true natural wonder. It is also used as a concert venue during the Træna Festivalen, Norway's most scenic music festival. 
Back to Husøya, visit the little cozy museum that exhibits some of the ancient objects found at Sanna and in Kirkhelleren. It is located close to Træna church, in a traditional house built in 1910, and it was used in the past as a doctor's office and a small boat house where fishing nets were repaired. Do not miss the mysterious gold ring with Latin inscriptions, found in a potato field in Sanna Island, a rare evidence of this language in Northern Norway. 
Visit Petter Dass Chapel
On Husøya, with a view to Sanna and the sea, stands a wonderful little chapel. It was built in memory of Petter Dass, a Lutheran priest and Norwegian poet, and all those who struggled and were lost at sea. At the same time, there should be a space for reflection and meditation and gatherings of various kinds. The chapel has not been consecrated. Its unique architecture is inspired by a large boat. 
The initiative to have the building erected came from the philosopher Arild Haaland and the artist Karl Erik Harr, in collaboration with Træna municipality. It was opened in 1997, and has since been used for both weddings and concerts. 
Relax your senses and enjoy a quality coffee at Træna Kaffekollektiv 
It is run by a couple of local coffee enthusiasts. The coffee bar bears the stamp of having been created out of passion and love for both the coffee that is served, and the old pier that has been renovated to house it. It is a popular meeting place for locals and
visitors, and anyone who appreciates a good chat over a good cup of coffee. Relaxing music and meditating atmosphere are guaranteed. 
Enjoy a cozy sauna session in town
You can experience a sauna session in the oldest boathouse of the town, now rebuilt into a sauna by a team of architects, students and local contributors. Sessions are organized regularly for the island's residents and visitors. It is also fine to book the sauna for a group.You can find some happenings such as lectures, art projects, film screenings, or even concerts here.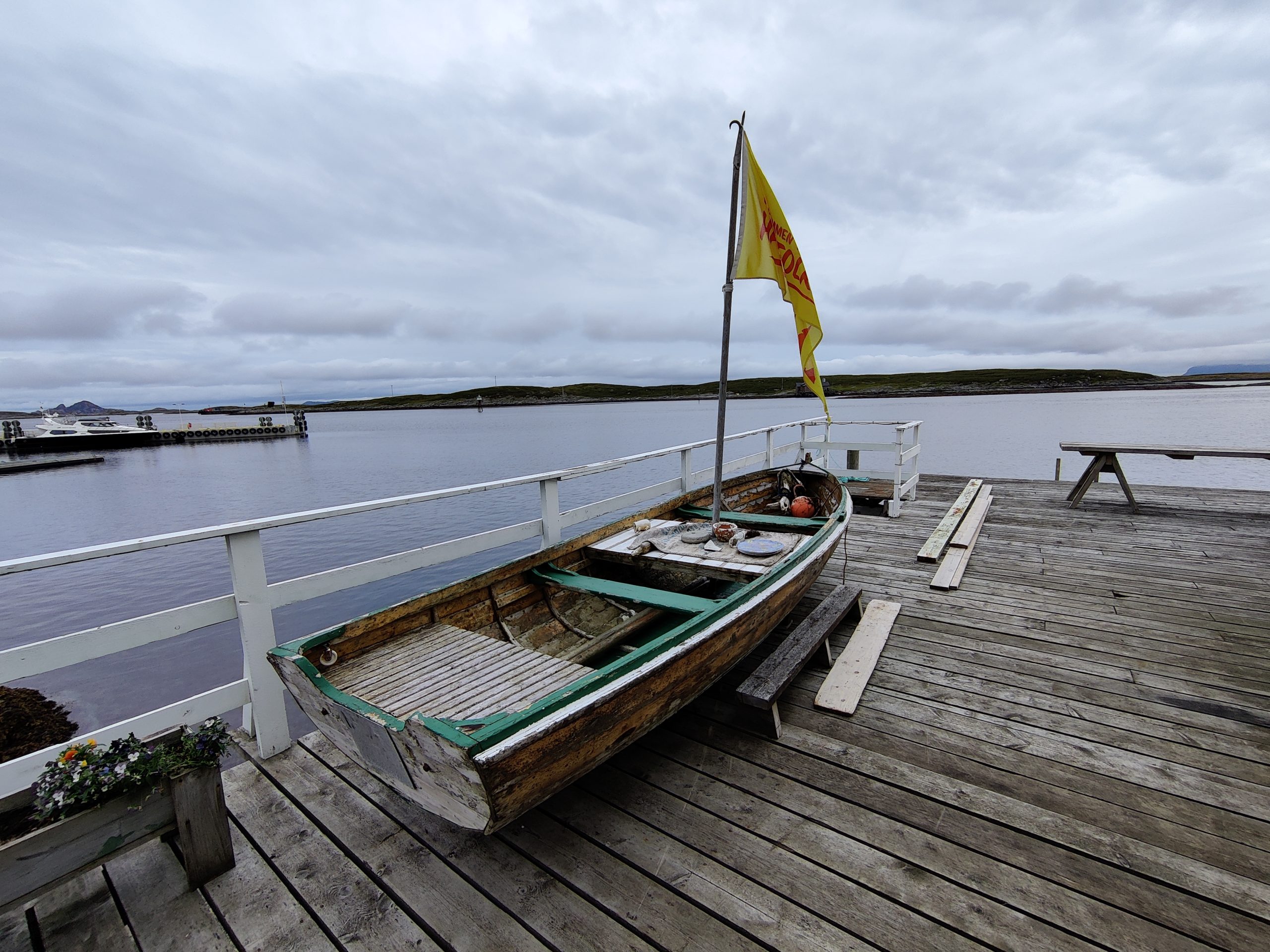 Hop on hop off boat and visit Sandøya and Holmen 
Holmen and Sandøya are the smallest and perhaps the most secluded island communities in Træna that are called by local scheduled boats. Both have dense small settlements, large beautiful beaches and cozy old farms and harbors. The islands are quite small, so you can easily explore them all on a day trip. Both islands are nice for swimming, diving, kayaking or taking a day trip walking around in the stillness. Local scheduled boat m/s "Sanna" departs from the ferry terminal on Husøy and calls at Sanna, Sandøy, Holmen and Selvær every day. 
Enjoy the view and slow life from your balcony 
Something that we usually forget about while traveling and visiting busy areas of the world. Træna invites you to observe and meditate on a place that has the ability to stop time and enjoy a nature that still dominates human activities. 
Træna Rorbuferie may be the perfect location for this. Renovated fisherman's cabins are the perfect place to relax your senses together with your family or the people you love. It is about 2.5 km from the center. It is located by the water's edge and is next door to a marina and to the Hikkjeltinden, a popular hiking area. You can be driven to and from the port and otherwise bicycles and boats can be rented.