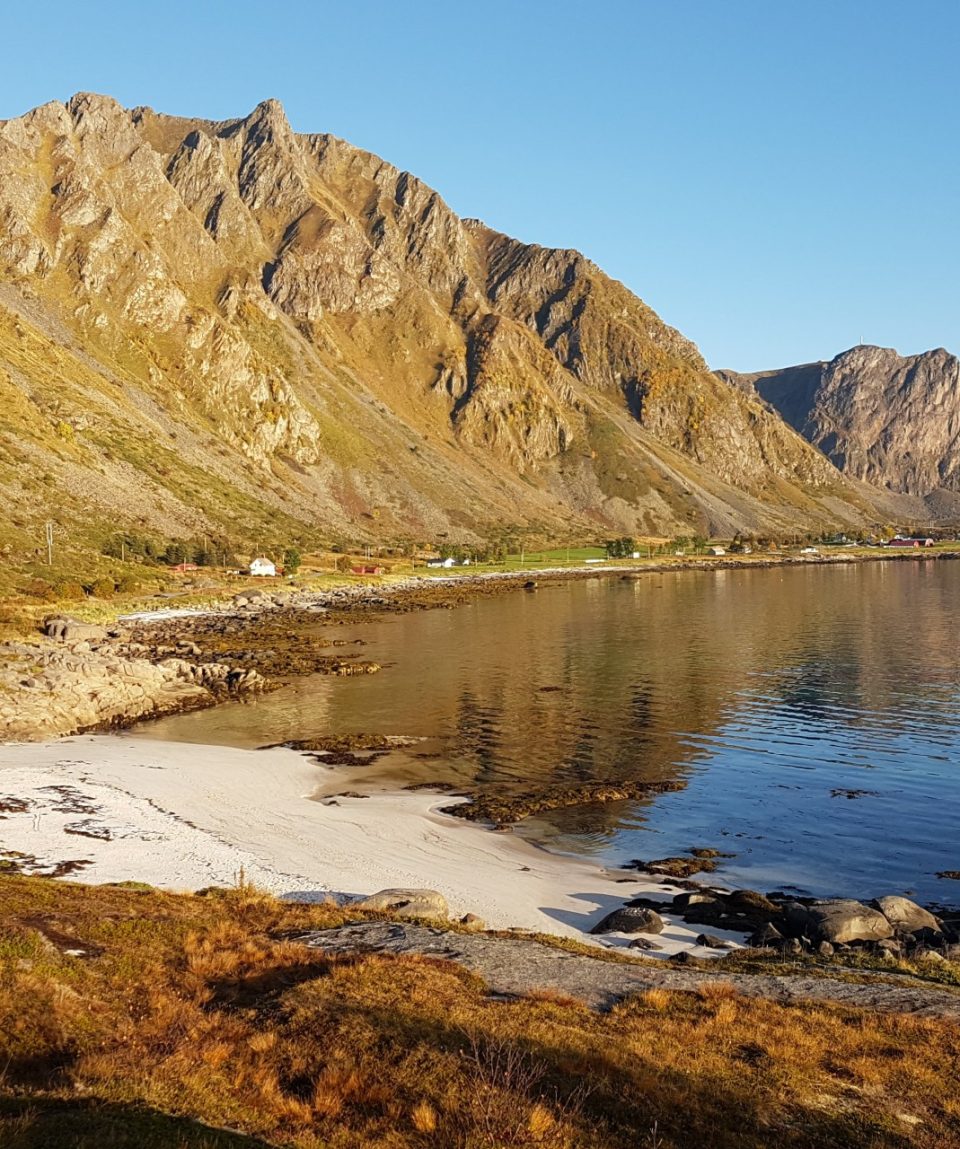 Soft Summer Adventures in Vesterålen and Senja
from
Soft summer adventures in Vesterålen and Senja. Designed by locals to immerse you through hiking, kayaking, cycling, whale watching & sea sights while travelling slowly.
Scenic Roads and Landscape connects Adventurous Moments
A journey crafted by locals to give the best awe-inspiring moments. In Vesterålen, get comfortable in Lone´s guesthouse on the pier in Bø. An old heritage home, which used to be her grandmother's place. The perfect place to be while exploring Vesterålen by cycle, hikes, rowing boat and simply observing!
The scenic route takes you to Andøya, where you hit the sea and gaze at the amazing whales. Guided by locals and in a safe environment for the whales, you are almost guaranteed to see some of the animals.
On the other side of the fjord is Stunning Senja. Explore the island in a kayak and by foot before getting deeper and drive off to explore some well-hidden local gems.
Be active while travelling slowly.
This journey connects two of the most beautiful places in Norway into moments you create by entering into this active adventure. Here is what you can expect:
Highlights
Cycle from the beach to beach at your own pace
Hike for incredible views with home-packed lunch
Learn about the local culture and travel through stories
Gaze for the Whales in Andenes
Sea Kayak with white beaches, idyllic islands and wildlife
Drive scenic routes along with two of Norway's most beautiful drives
Best time to travel: June-August
Duration: 9 days/ 8 nights
Destinations: Bø in Vesterålen and Hamn in Senja.
Primary Mode of Transportation: Car
What is included in this tour?
Items that are included in the cost of tour price.
Accommodation w/breakfast, one packed lunch, bike rental, day trip to the Lighthouse Island, whale watching, guided hike to Husfjell, guided kayak tour
These are the places you will visit
Click on the place markers to learn more about the places you will be visiting
Day 1

ARRIVE in Vesteralen

As you arrive in Bø, on the island of Vesterålen, you will be stunned by the beauty of the place, often overshadowed by its more popular and a little crowded southern neighbour, Lofoten. An immediate realisation that you have come to the right place, as you settle in your accommodation and start soaking in the place.

Top Tip: Take a quick walk to stretch your legs, and familiarise yourself with this small beautiful, friendly village. Walk out to see the 4.3m Man from the Sea, a cast-iron sculpture of a man viewing the archipelago.

Day 2

BEACH HOP by Cycle around Bø

There is nothing that says a holiday more than a beach. So today, you will be beach-hopping the island on cycles, the best way to do it. But first, start the day with a delicious breakfast as you soak in the sea breeze. By the end of the day, you will feel like you have really started relaxing.

Top Tip: Try to reach the villages of Søberg and Skårvågen, which are on the outer side of the island for their amazing vast sea views. While rolling back to Bø, take a breather, and have delicious coffee at the Ringstad of Straumsjøen. 

Day 3

DISCOVER Culture with a Local

Today is meant to be your cultural discovery day of the island, and how you choose to do that will be based on your discussions with our specialist, the research you have personally done, and the discussions you will have with your host at the Guesthouse. All in all, a day when you peek at the layers of culture this place has to offer. Make the most of it. Today's discoveries are all yours.

Top Hints: Without giving too much away, we would suggest the Litløy Lighthouse, a rowing tour to a secret island, delving deeper into Sami culture, or learning more about sea fishing.

Day 4

HIKE the hills for a view

Islands are meant to be hiked, and as you reach higher, you get unparalleled views of the area. With a nice small lunch packed by your host at the guesthouse, you can set up on the trail of your choice. Better still, sit down with your host and find out which would be suited for you. When you reach a location with a beautiful view, stop for lunch before you slowly make your way back to the Guesthouse. You will still have the afternoon for a nice rest, or to read a book.

Top Tip: If you still have some energy, take out a rowing boat for a small experience out in the sea. It's magical in the afternoon.

Enjoy the dinner today, as this will be your last night at Bø.

Day 5

DRIVE a Scenic Route & WHALE WATCH

No trip in Norway is complete without a drive on one of the National Scenic Routes, and today you are on one of the two that this trip has. Once you bid goodbye to Lone, your host at the Guesthouse, it's time to drive and enjoy the beauty of the landscape, the fjords and the sea. Part of the drive to Andenes is along the outer edge of Andøya Island, which is absolutely stunning, and which has put this stretch into the National Scenic Routes.

Once you reach Andenes, your drive break is filled with another mind-blowing experience, a whale watching trip. Once you are done watching these fine mammals, you take a ferry over to Senja and then just drive to your accommodation for the next few days at Hamn.

Spend the evening reflecting on what you just experienced today!

Day 6

HIKE for a view and DISCOVER the island from the water

The place where you stay at Hamn has what are called Aurora rooms, with massive windows facing the sea. When you wake up, the view will blow your mind. Jump into your shoes, grab a packed lunch, and get ready to cross the fjord by boat. Once there, the Queen Trail takes you to the top of Husfjellet mountain where you will get views of both Bergsfjorden and Ersfjorden. Soak it in.

After you had your packed lunch and back down at the seaside, wait for your boat to come to pick you up. Do not be too surprised as your captain gives you a sightseeing tour on the way back to Hamn.

Day 7

KAYAK in turquoise waters

Today, it's about using your own power during your guided Kayak experience. As you paddle, the white beaches and small islands give the perfect ambience to the activity. Watch out to see seals and eagles among the many birds flying over you and the islands.

After paddling for some time, your local expert will take you to one of the islands to enjoy warm homemade fish soup and hot drinks. Then, get settled back in the sea kayak and paddle the sea back to your hotel.

Rest the evening. You have had a great active day.

Day 8

DRIVE another Scenic Route

Senja has its own scenic route, and it would be a shame if you did not drive it. However, the beauty of Senja must be explored by road. The scenic road is full of twists and turns along fjords with crystal clear icy – cold water providing one beautiful scenery after the other. The difference in the landscape is stunning, and it is a drive that makes you want to stop repeatedly to soak in the views.

TOP TIP: Make sure to stop at Husøy island, home to Senja´s most active fishing community and a few hundred permanent inhabitants.

Enjoy the evening. It's your last night in this magical place.

Day 9

DEPART from Senja

It is time to say farewell to Hamn and hit the road. The end of your slow adventure has arrived. Make your way to Harstad, where you deliver the car and continue on home.

Or maybe you want to stay a few more days?