A Living Sea Museum in Nesvåg
Would you like to visit a living Sea- and Motor Museum in idyllic Nesvåg? It is located only a few km from Sogndalstrand, a perfect distance to go by cycle. And you will be rewarded with a visit to a Living Sea Museum in the small settlement, Nesvåg.
The Route to Nesvåg
It is a wonderful ride, which will take you through the life of people living along the route. Make sure you take the route via Rekefjord and the nice narrow roads with its settlements. Watch out for people working in their garden, painting their houses, or at the industries along the fjord. Some fish, while others work at the Rekefjord Stone. 
Finally, at Nesvåg. It is an atmospheric settlement in a bay and facing the open sea. In the last few years, a handful of families have settled here, giving life to the small village.
A Warm Welcome
Cycle around the bay as you follow the signs to the museum. At the museum, you will be met by a gentleman whose name is Johnny Nesvåg. However, you might not find him at once, as this is also his workplace, and he might be busy and stuck working in one of the many buildings on site.
Oh, hi and welcome. I did not hear you coming! A big smile filled his face as he led the way up to the main building.

 
For decades Johnny has been collecting boat engines and other maritime equipment. At some point, it got so much that the idea of setting it up as a museum came to life. A living museum, I would say. Johnny is here every day, working. Fixing and restoring things and from time to time organise lovely events for groups with prawn on the pier of a trip to sea in M/S Sjødis, a 57-foot shrimp trawler which was saved from being condemned in 1993.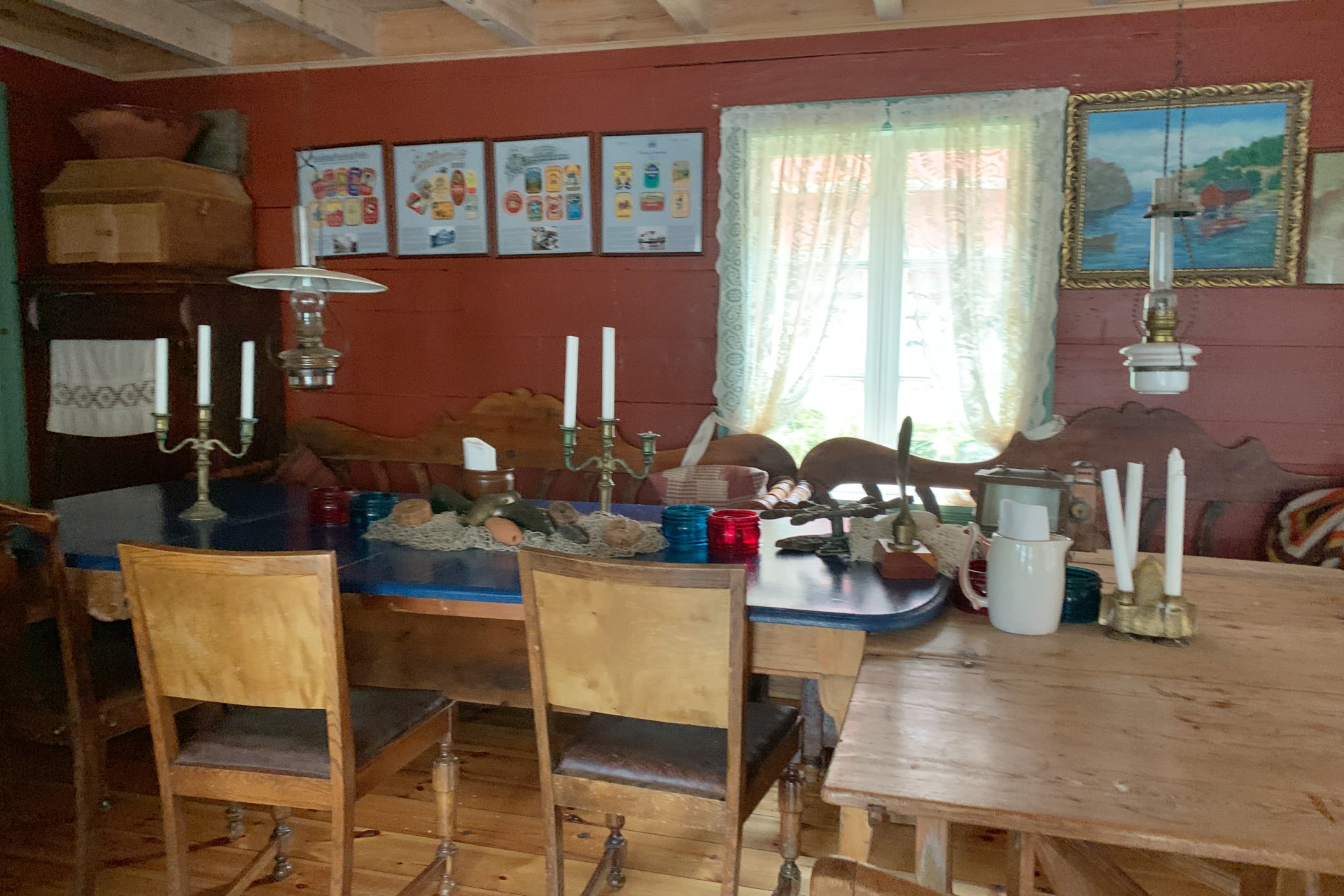 A living Museum
It is stepping into Johnny's garage and workspace, alongside an interesting museum that he has built. Here you find the museum itself, which includes old boat engines, maritime artifacts, and fishing equipment—each with its own story of how life used to be and how it is now. The engines are restored by Johnny, and many of them are working! 
On the premises, you'll find an old Fishing Home that dates back to 1883. This is decorated in the old style, and you can easily imagine how people lived back then. The house was originally located in another place but was taken down and rebuilt by Johnny, where it stands today. It got a special Building Protection Award in 1998!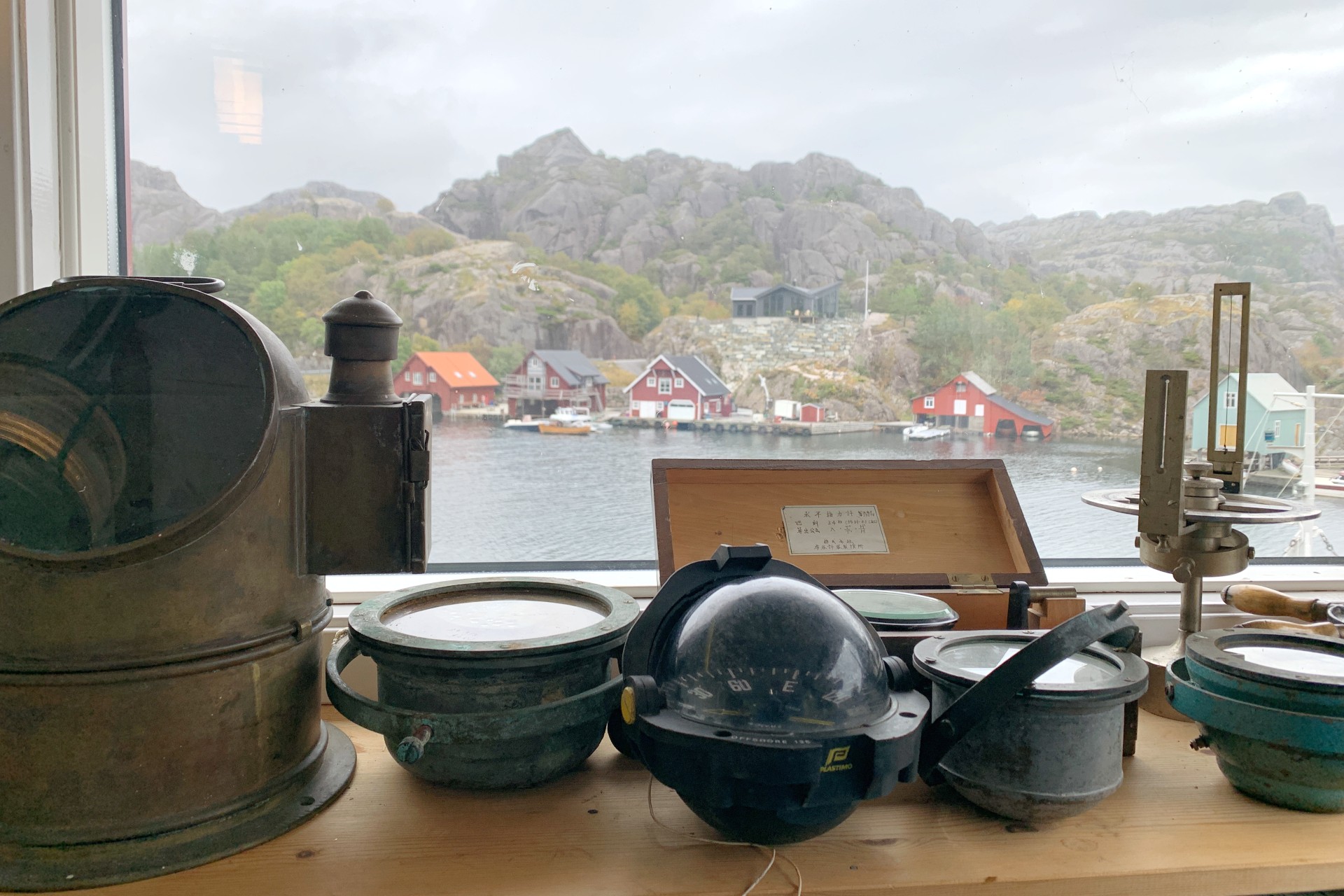 Stories and legends
– have you been in the tower yet? Johnny asked. 
We had not, and he led the way up the steep stairs to a magnetic view over the area. Floor by floor is telling a story. From the old grocery store to the top with a nice seating area and binoculars for visitors to use. Johnny told a couple of stories and legends from the Viking area, which supposedly happened here! Johnny's knowledge goes far and beyond. In his own humble way, he happily shares stories and facts.
Johnny is passionate about telling the stories from Nesvåg and life, not only at sea but those who worked along the shoreline. A boat does not do itself! This was part of life, and for many, it still is and gives an insight into Norwegian culture from a person living it himself.
A better way to spend a day out?
A day like this combines everything you would like to do when traveling slowly. Leave the car, and get on the bike, and travel by own power. You will have the possibility to stop wherever you feel like and not be pressured to take any shortcuts! 
Bring along a lunch pack, as you might discover it far between any restaurant, cafe, or groceries. When you arrive in Nesvåg, you are not entering a museum. Instead, you are stepping into a local's way of living, his work. At the same time as telling the story and how life used to be a couple of hundred years back and up till today. A perfect day out! 
And, if Johnny is not around when you arrive, you can still visit the museum! The doors are open 24/7, as Johnny says;
You would not be happy if you made the trip out here and met a closed door. We also want people to experience and learn about maritime life!
Check out our trip to Sogndalstrand and a visit to the Living Sea and Motor Museum in Nesvåg.