Meet your Local Hosts
Meet your local hosts | Relying on local hosts helps us curate the most inspiring and unique Norwegian experiences, often off the beaten track and away from the crowds. It's also part of our ethical promise. Our hosts are proud of their country and love nothing more than welcoming visitors from all over the world, but they're also mindful. They help steer us towards the experiences and places to stay in Norway with minimum environmental footprint and maximum social benefit. That's why local hosts are a cornerstone of our ethical promise. Here are a few of our Norwegian partners that are ready and waiting to show you around.
Set sail in Norwegian fjords with Kenneth and Sachi of World Sea Explorers 
'Experiencing a small town by boat, hearing local stories over tasty morsels plucked from the surrounding land and coast, and trying out the outdoor activities that locals love. That's how visitors can understand the history and environment that's so unique to Norway's coastal culture.', says Kenneth, co-founder of World Sea Explorers, which hosts Ethical Norway guests on adventures from dog sledging to whale safaris.
Our local hosts Kenneth and Sachi are based in Svolvaer, the largest town in the Lofoten archipelago (although large for Norway is only 5,000 people). From here, they sail some of Norway's most spectacular waters on their beloved Stella Oceana, built in the 1960s but repurposed as a sturdy yet elegant sailing yacht in 1991.
Kenneth and Sachi's trips make the most of Stella Oceana's agile ways to get closer to the other-worldly Lofoten coast. Sachi continues, 'Our favourite place is an unnamed island in the archipelago with the softest white sand and views only accessible by boat.' Other day trips include a four-hour fishing excursion and a chance to view the towering Lofoten wall from the water in Vestfjord. Longer trips give ample opportunity to get closer to nature, including snorkelling with seals, skiing and sailing, whale watching, and stand-up paddleboarding beneath white-tailed eagles at Trollfjord.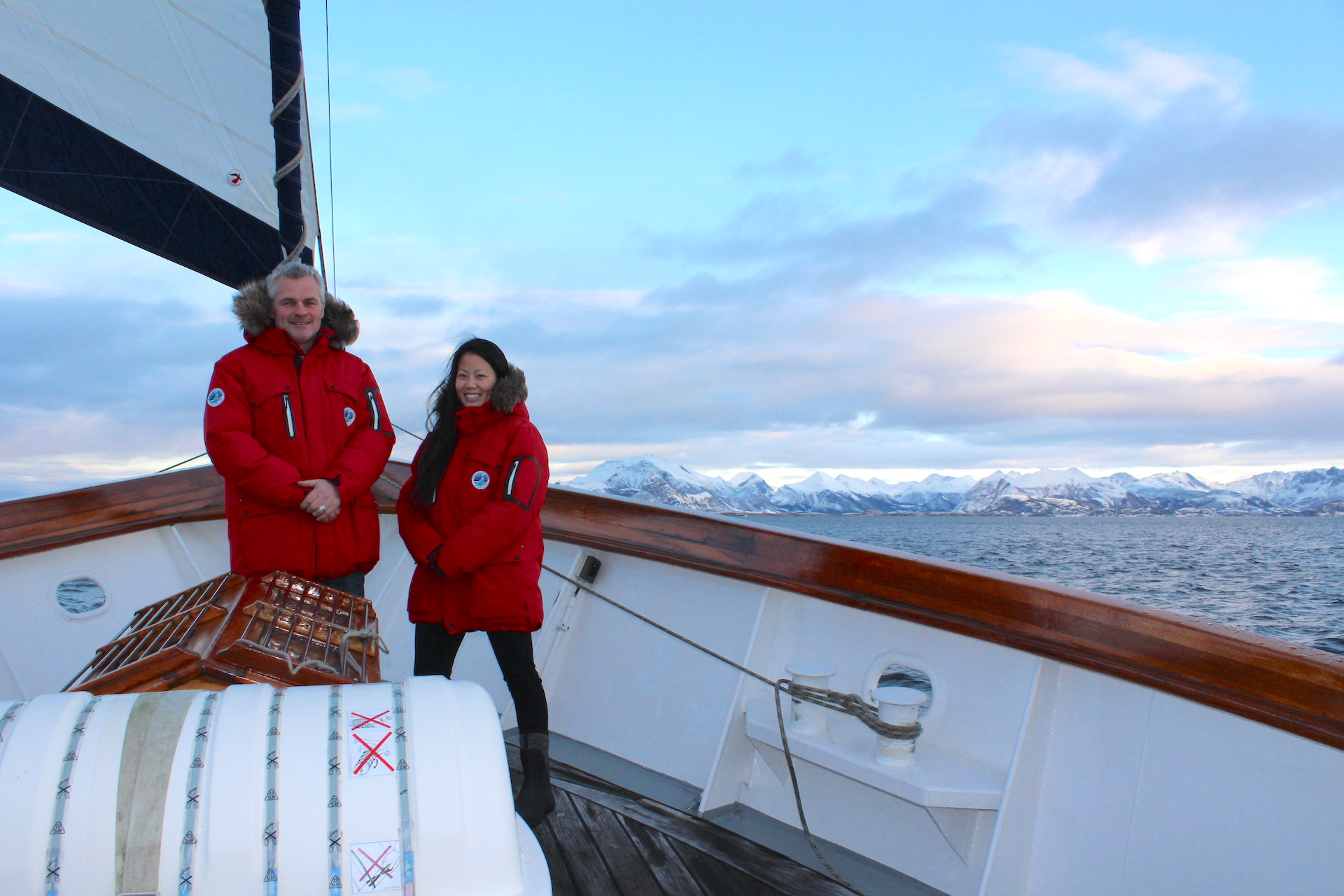 Meander through Oslo on a Norwegian city tour with Stig Torset 
'I love how my city, Oslo, has transformed in the last three decades and sharing this with visitors.', says Stig, our local host who helps Ethical Norway guests get the most from their stay in Norway's green and creative capital. 'One of the first things I ask guests is if they like coffee. If they do, it's straight to one of my favourite experiences in Oslo; a visit to Tim Wendelboe's coffee shop. He's a world-famous coffee maker, and not many people think of Norway for that.', Stig continues.
Stig's best-selling experience is the 'Hidden Gems of Oslo' tour, which takes Ethical Norway visitors away from the honey pot tourist sights to lesser-known historical attractions, like Damstredet, the oldest standing building, and Grünerløkka's streets bustling with independent food, drink and shops.
'Using local hosts is so important because we make sure that visitor money is spent at locally-owned shops and businesses – that's what we want to showcase, not the big multi-national chains.', Stig says. This helps local and smaller businesses to improve. Stig's small group tours also help visitors get closer to the destination. They can ask anything they like, and therefore have more meaningful interactions with Stig and the experiences and businesses they visit. This is, after all, exactly what slow travel and Ethical Norway is all about.
Curl up at Skagakaia Guesthouse run by Norway's ecotourism champion Lone Lamark
Skagakaia is a dream come true for our guests. Lone has spent years carefully converting her grandparents' quaint harbour-side property into a guesthouse where charm and history ooze from every ancient crevasse. The hotel is in Bø in Vesterålen on the west side of Langøya. It's an island that few tourists make it to, but those that do instantly fall for its midnight sun and slow pace.
Lone tells us, 'Grandma-style cooking makes the most of ingredients from the local area and the nature around us. There will be midnight sun walks, boat trips to see birds, seals, and forgotten islands. We have bikes to rent, traditional rowboats, and stand-up paddleboards. But perhaps best is just relaxing and soaking up harbor views. This week, many orcas have followed herring into our neighborhood. It's quite a spectacle.'
The Covid-19 pandemic has been very quiet in places like Langøya, and Lone is keen to welcome visitors back. She continues, 'I've traveled all over Norway, but this is where I love to bring visitors the most. It's like stepping back in time. Everything has a story; even the daily catch brought in by the fishers. There's cultural intrigue in how we've brought old-world buildings back to life, and the forest and sea are brimming with wildlife from elk to otters.'
What does Lone love most about Norway? 'The way we are brought up to relax and unwind in the great outdoors. It's in our blood. The concept is known as friluftsliv, and we love introducing visitors to this way of life.'
At one with the horses in southern Norway with outdoor enthusiast Tone Pernille
If it sounds a little like a scene from Disney's Frozen, that's because it is. Tone's remote farm location, east of Arendal in southern Norway, is home to 7,500 hens, 40 cows, five lamas and six beloved horses. Alongside her husband, Tone leads several of our kayaking, horse-riding and RIB experiences exploring the Sørland coast, so rich in biodiversity that tourism is carefully monitored.
On the water, three-day expeditions paddle between islets and reefs to spend the night in lighthouse stations. On land, Tone invites guests to ride or spend time with her gentle Icelandic horses. Tone says, 'I try to teach people to be at one with the horse, find harmony and mutual respect with animals.' What does she like best? She continues, 'I enjoy the moments where my guests experience the inner peace that occurs when you're sliding along the water by kayak or riding through the landscape on the horses.' Why not join one of her experiences?