Sognefjellet Mountain Road
Norway has many excellent national roads, but you'll struggle to rival the sheer beauty of the Sognefjellet Mountain Road. It will give travelers the opportunity to enjoy immense luscious landscapes and a summit of 1,434 meters. Can you imagine the views from this National Scenic Route?
Furthermore, the Sognefjellet Mountain Road offers some extremely important Norweigan history. The road was a trading hub of Norway, and salt and fish used to head eastwards, whereas locals transported leather, pitch, and butter west. 
The mountain road offers one of Norway's most incredible routes, and here's what you'll find!
The Journey  
You'll start your journey in LOM, where you can stop at the Lom Stave Church. Why not wander around the Middle-Aged church, which is one of Norway's last remaining stave churches! Moreover, cuisine experts describe LOM as one of Norway's culinary hubs. 
The scenic Fv 55 route runs between Lom and Gaupne and spans over 108km. It's essential to visit during the summer months because the conditions force the mountain road to close during the winter months. However, if you visit between April and November, you should be in an excellent place to explore.  
Many visitors also adore Galdhopiggen and Norway's tallest mountain. The mountain is over 2469 meters above sea level and immensely popular with hikers! As you climb the mountain, you'll marvel at the exquisite Norweigan views!
However, the area is the Norweigan area with the most peaks above 2000 meters and subsequent stunning views. Did you know it's Northern Europe's highest mountain pass? After that, you'll drive past the Mefjellet stop, where you'll find the Knut Wold's Stone Sculpture. There are various stunning landscape views here, and why not take a few minutes, sit down, and enjoy the views?
You'll then head towards the Sognefjord Fjord Region, home to Norway's longest fjord and many great photo opportunities. The road also takes you directly towards a tributary of Sognefjorden to Lustrafjorded. Are you a hiking enthusiast? If so, you'll need to hike along Børesteinen and Molden, where you'll find challenging hikes. But, with that said, the views from the top of the hikes are utterly worth it!
Finally, you'll drive towards Gaupne, home to the Gaupne Old Church. This church is a stunning example of an old Lutheran-style church. It dates back to 1647 and 1652, and the western portal offers dragons and carved snakes that you can date back to the 12th century. Furthermore, you'll see views of Sognefjord's gorgeous waters. These waters often change from green to blue, a rather unique thing to witness!
The Best Ways To Experience The Mountain Road 
Cycling 
Are you a cycling fan? It's an excellent way to experience Sognefjellet, and more importantly – it's an incredibly sustainable way to experience the area. You should cycle from Lom and head through the mountain road. You'll pass by the Jotunheimen mountain peaks, standing at over 1400 feet above sea level. It's a tough ride, but absolutely worth the effort! Then, you'll enjoy the ride down towards Futon and Gaupne and the amazing views along the way! 
Hiking 
Hiking lovers will adore Sognefjellet because of its amazing hikes. The highest point of the route offers the opportunity to follow the Cairn Track from Krossbu to Turtagrø. Alternatively, you could hike along the Mefjell Track, where you'll find breathtaking views. Make sure you take your time and breathe as you hike around this unique greenery!
Local Bus Tour  
But what if you're not an outdoor lover? Then you should join the local bus. It will take you through the scenic road in the summertime and it's an excellent option if you're not interested in hiking and cycling.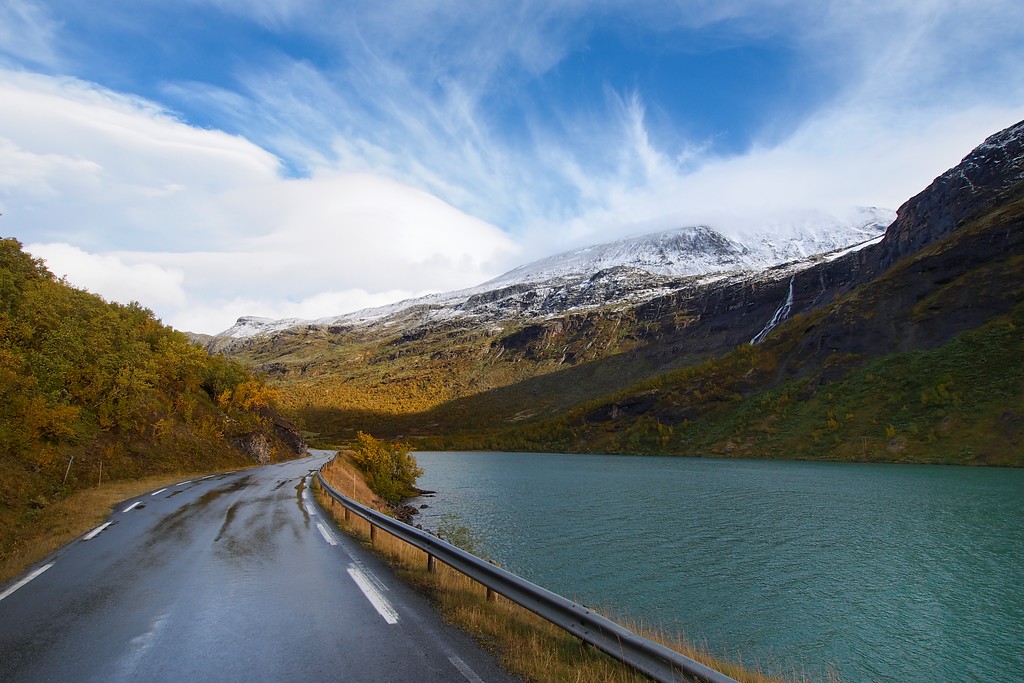 Final Thoughts
The mountain road is a must-see road trip if you're in Norway. You'll enjoy great hikes, cycling routes, and views that you'll remember for a lifetime. However, make sure you take your time, go slowly, and ensure that this majestic nature remains undamaged and preserved as you venture from mountain to fjord. 
We offer ethical tours that connect the mountains and the fjords, and we would love to help you with your dream Norway adventure. 
Click here to check out Kayak Paddling the Fjords of Norway